I was a huge fan of Horton Foote's. The Trip to Bountiful is one of my favorite plays, and favorite film adaptations.  Geraldine Page was a lush and luminous Carrie Watts.  With each passing year, I identify more and more with the final scenes of her alone in her lonely, deteriorating Bountiful.  I am so sad to learn of his passing.
(CNN) — Horton Foote, the Pulitzer Prize- and Academy Award-winning screenwriter of "To Kill a Mockingbird," has died, according to officials at the Hartford Stage theater, where he was working on a production of several of his plays.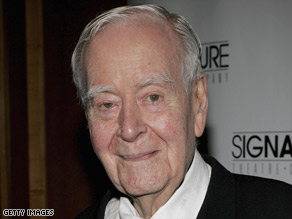 Horton Foote won Oscars for his "To Kill a Mockingbird" and "Tender Mercies" screenplays.
He was 92.
Foote was born in Wharton, Texas, and, at age 16 moved to California to study acting. He would later move to New York, where he would transition to writing for the stage, television and movies, according to the Internet Movie Database.
He won the Oscar for best adapted screenplay in 1962 for his reworking of Harper Lee's classic novel "To Kill A Mockingbird," and another for best original screenplay in 1983 for "Tender Mercies," which starred Robert Duvall as a down-and-out country singer.
He also was nominated for 1985's "The Trip to Bountiful."
In 1995, his play "The Man From Atlanta" was awarded the Pulitzer Prize for drama.